News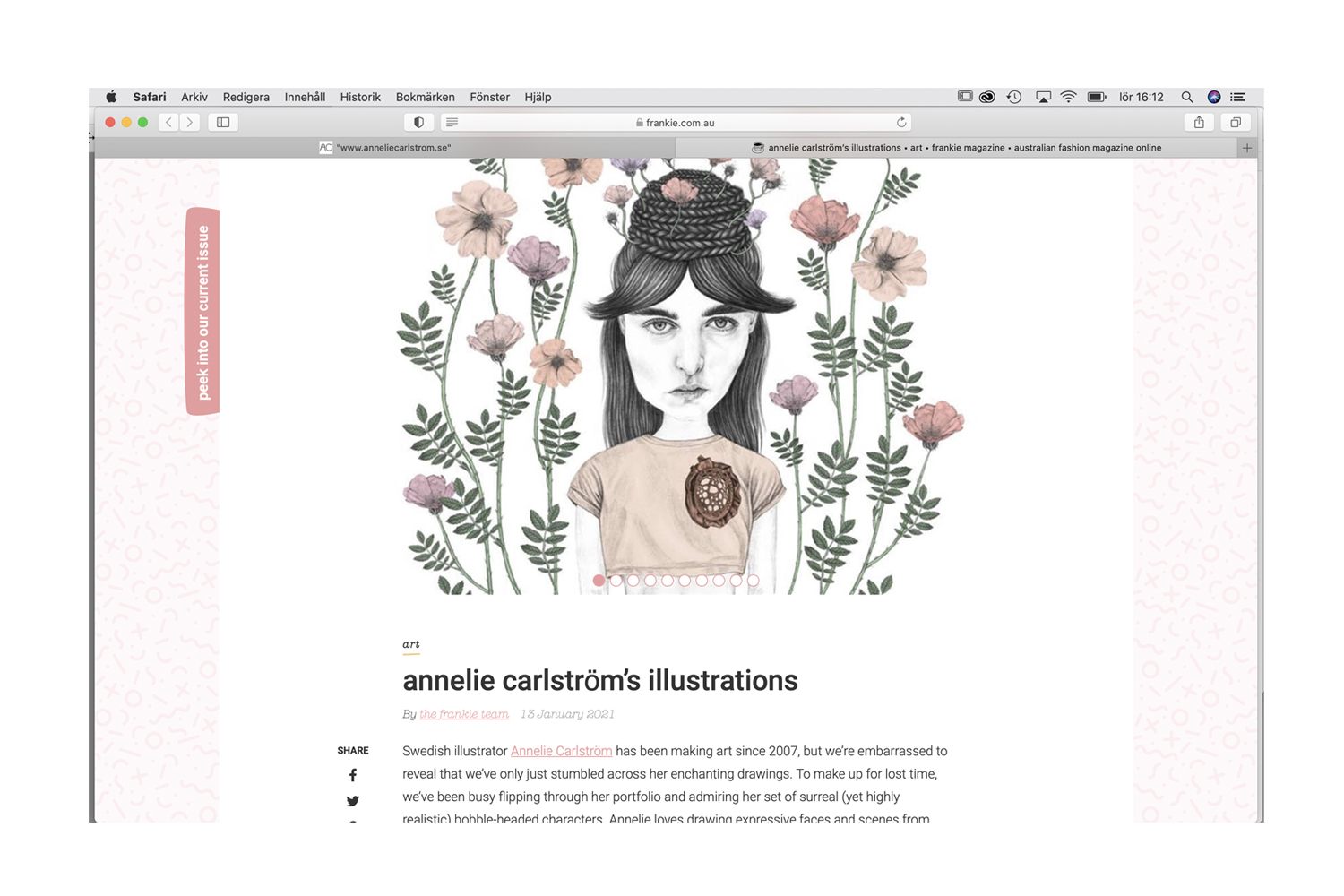 April 2021 - Frankie Magazine
Featured in my favorite magazine Frankie. To see the full story click here!


March 2021 - Tiden Magazine
Cover illustration for Tiden.

March 2021 - Emma Frans.
New portrait for Vi Läser. This time Annelie portraited Emma Frans, a epidemiologist that recently published her Corona diary.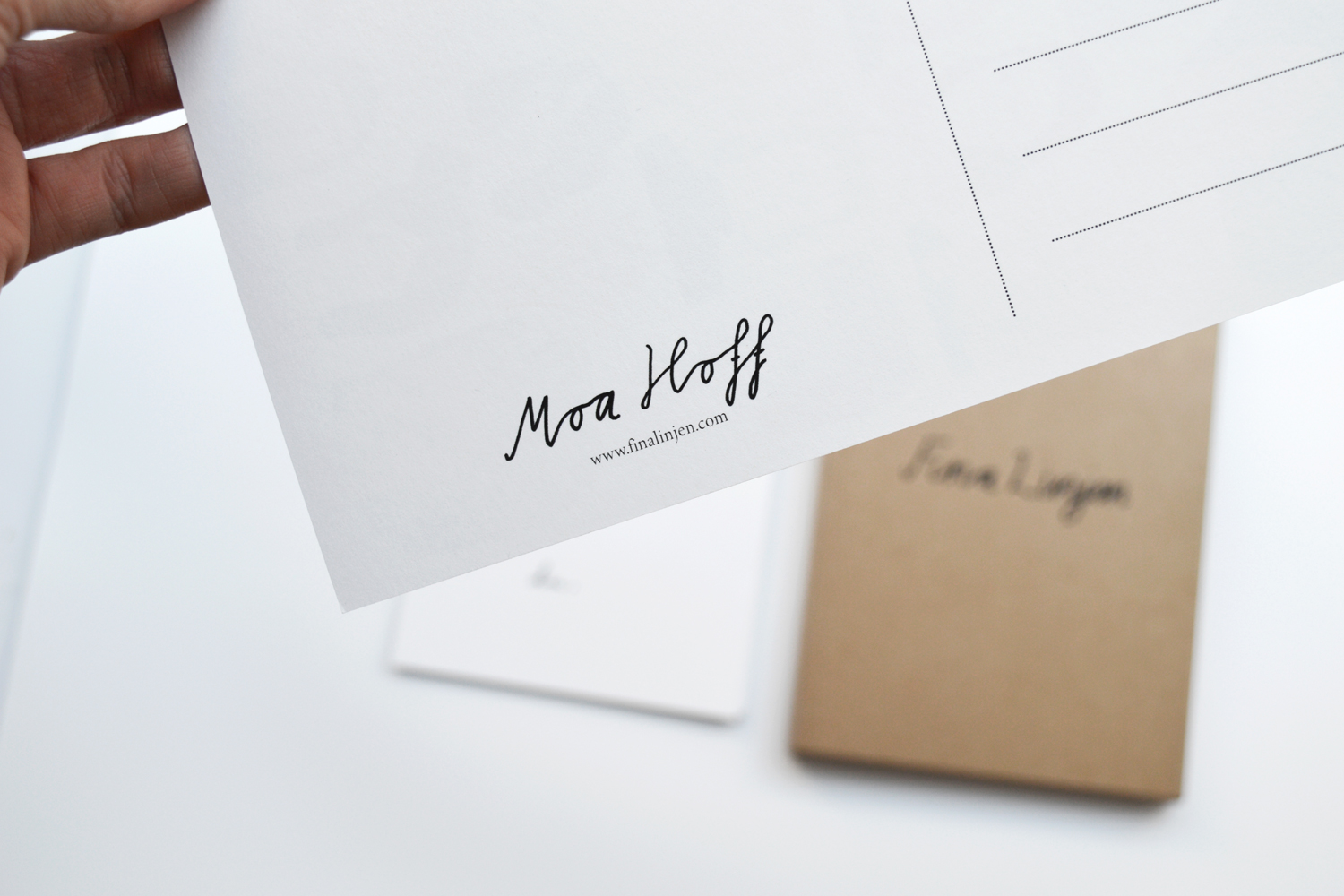 March 2021 - Fina Linjen Box.

Box of Postcards from Fina Linjen.
Including my artwork "Searching for Nature - Grandma's Sweater. Available at Konstig Book Store. Also online!

Fina Linjen is a group of illustrators formed in Sweden, 2021. The idea came from a wish to be part of a bigger picture where we would be able to, although we work as individuals, promote ourselve as a group and thus reach out to more people. We intend to create a platform that represents a wide range of illustration styles, with uniqe artistic expressions. With a common love for visual communication we hope that Fina Linjen will become a natural destination for anyone looking to commission an illustrator. Between us we have a lot of experience and have been working with a wide range of clients and projects including commissions within advertising, books, fashion, editorial, animation, products and packaging.



March 2021 - Work in progress.
Sketches and work in progress of ceramic objects/sculptures.






March 2021 - Kollega Magazine.
Illustration for Kollega Magazine to an article about Biofili - an expression about our new found love for nature during the corona pandemic.

Feb 2021 - Fokus Magazine.
Portrait of Karl-Ove Knausgård for Fokus Magazine. The illustration is made to an review of Knausgård's new book Morgonstjärnan.



Jan 2021 - Anicura.
Parrot and Rabbit for Anicura Animal Hospitals.








Jan 2021 - Het Parool.
New work for Het Parool illustrating a guide to a special route around Amsterdam, on which you are meant to search for a reindeer!










Dec 2020 - A Very Merry Christmas.
I wish you all a Merry Christmas and a Happy new year! Hope next one will be better!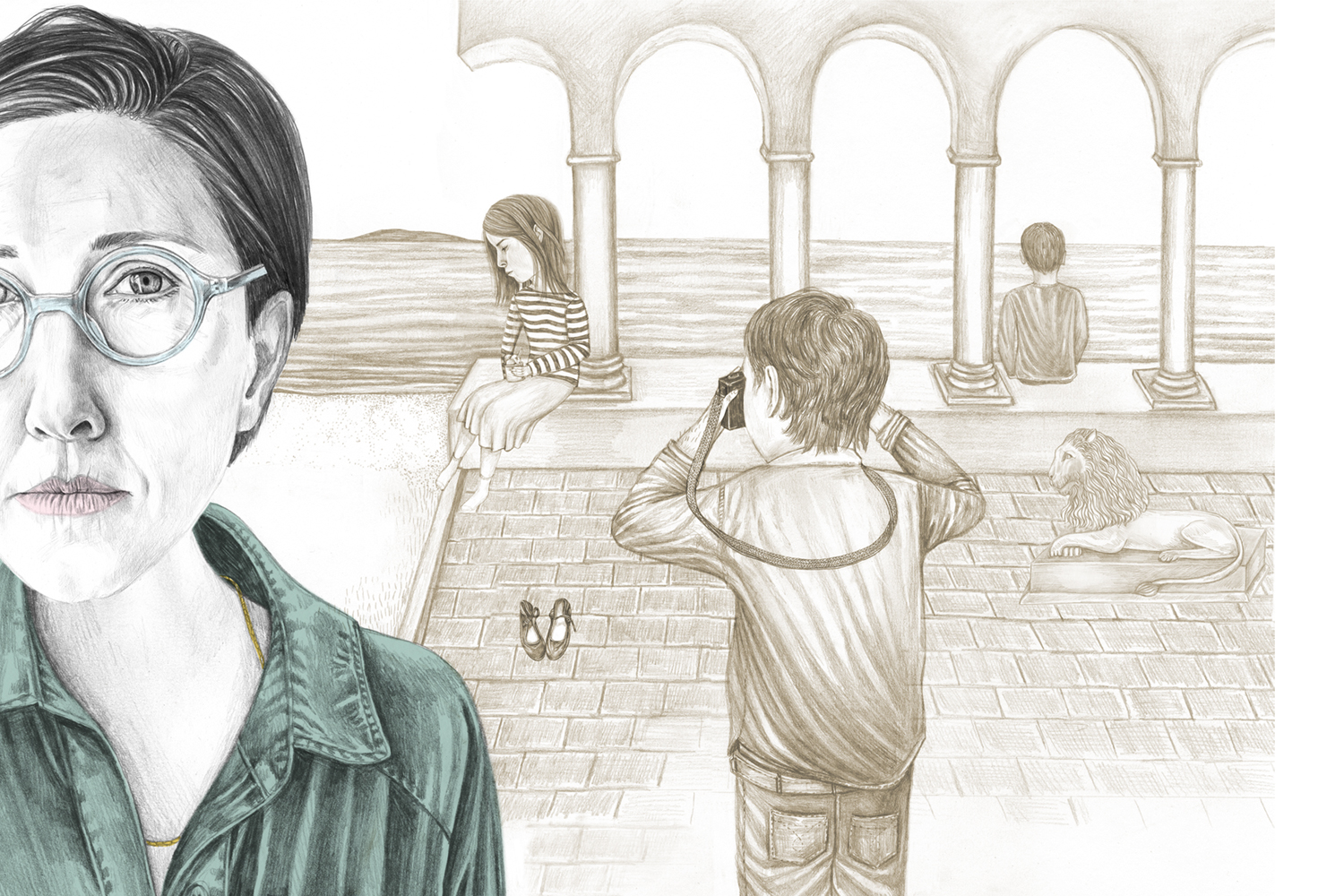 Dec 2020 - SvD
Illustration to SvD, created for Johanna Ekström's essay Som ett Rovdjur sekunden före attacken.






Dec 2020 - Fokus Magazine
Illustration for Fokus to an article that investigates the relations between knowledge and disaster throughout history.





Nov 2020 - Bookshop poster
Poster created for a brand new online Book shop soon to be launched.





Nov 2020 - Tiden Magazine
Democratic capitalism- who's in charge? Portraits of sweden's finance minister Magdalena Andersson and LO's new chairman Susanna Gideonsson.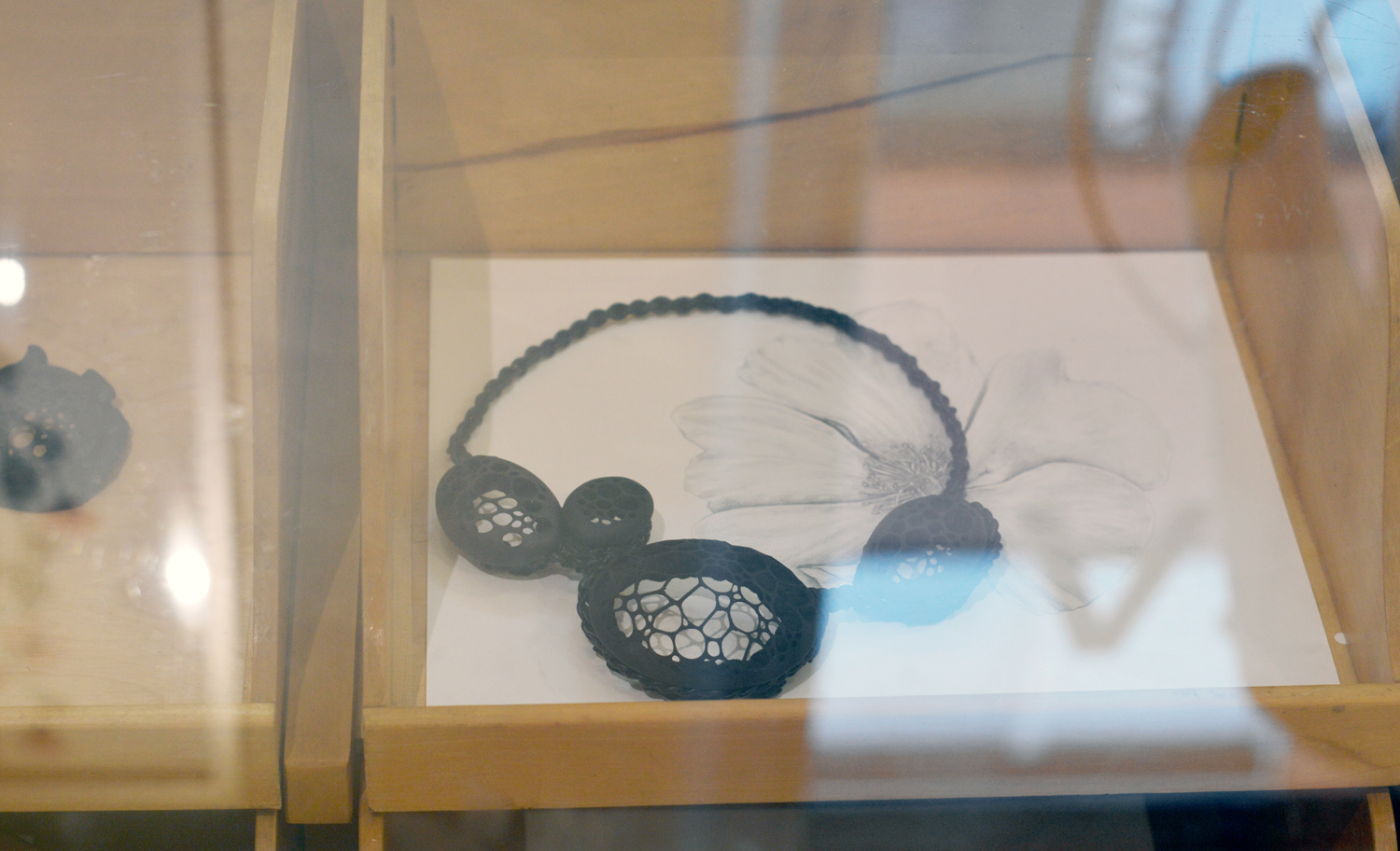 Nov 2020 - Braid.Stone.Needle på MUSA
MUSA in Gothenburg is showing the exhibition Braid.Stone.Needle. by illustrator/artist Annelie Carlström and jewellery artist Sanna Svedestedt Carboo. Annelie and Sanna works in different materials but they both feel a strong attraction to braids, soft stones and pinetrees. In the exhibition Braid.Stone.Needle their expressions meet, when Annelie interprets Sannas pieces in to her own picture world. The story that's been drawn has in return inspired Sanna to create new jewellery and objects, to be carried by HER who is appering in the pictures. The artists has also designed a silk scarf that will be sold exclusively at MUSA in a Limited Edition. The exhibition will be shown at MUSA from the 5 of November and this is the first time that the project Braid. Stone. Needle is being presented.






Okt 2020 - Söker efter Naturen - Farmors tröja (Searhing for Nature - Grandma´s sweater)
Pencil and Gouache on paper. Created for the exhibition Braid.Stone.Needl with jewellery artist Sanna Svedestedt Carboo
that will open at MUSA 5/11- 2020.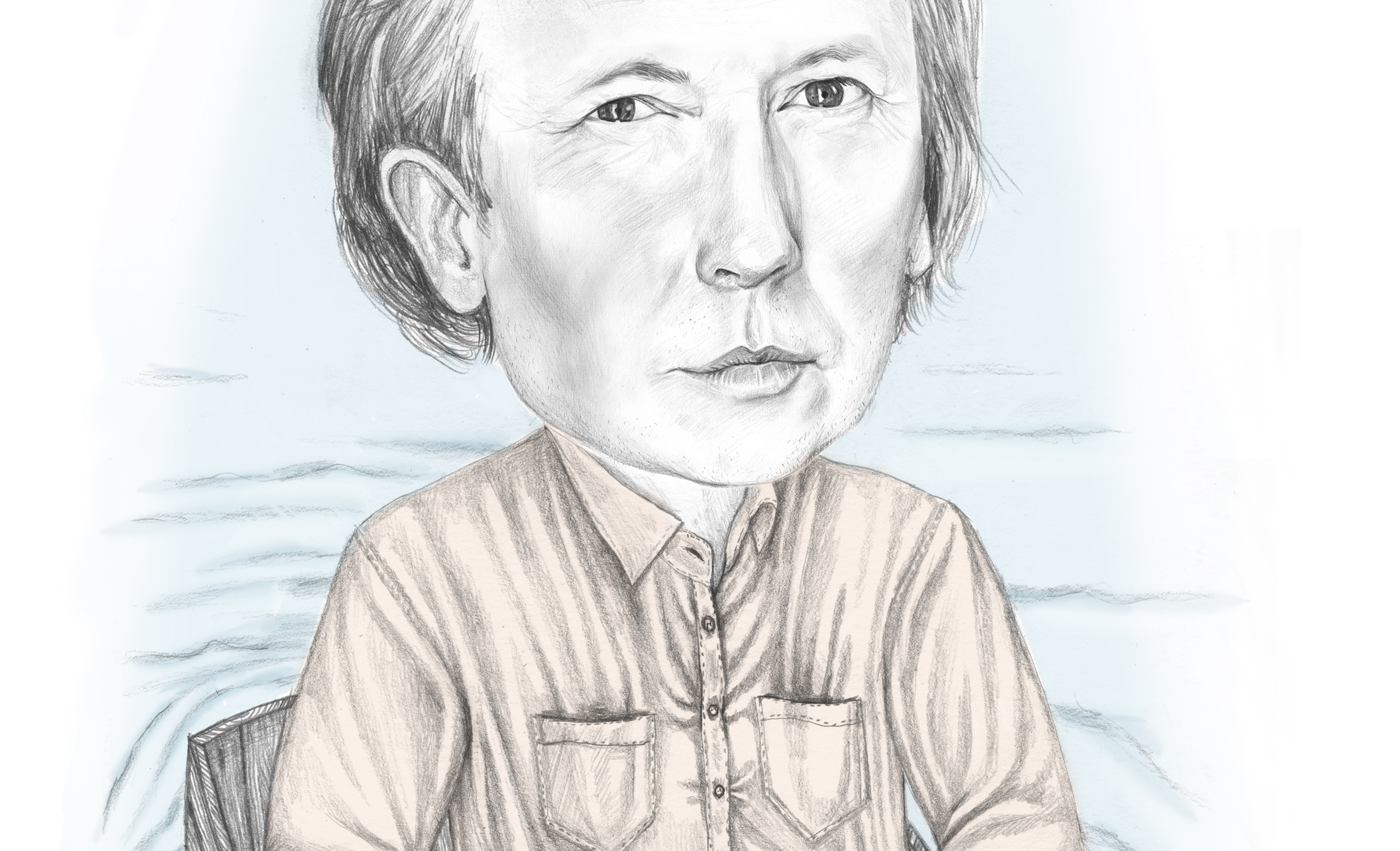 Sep 2020 - Vi Läser
Portrait of Klas Östergren and his favorite word eka.




Aug 2020 - Teckningsmuseet
Workshop Cutting the Line at Teckningsmuseet together with artist Petra Börner.




Aug 2020 - Postnord
Sunflowers for Postnord. The illustrations were put on envelopes.





July 2020 - Vi Läser
Carl-Henning Wijkmark and his favorite word for Vi Läser.





July 2020 - Summer Greetings
Summer Greetings from Annelie Carlström Illustration.





July 2020 - Het Parool
Illustrations to an article in Het Parool about this summer's new cookbooks.


May 2020 - Artwork
Lady two with glasses.
May 2020 - Tiden Magazine
Cover for Tiden Magazine. During the corona pandemic the society have required that the state should solve all the problems. Even parties that normally want to phase out the state's importance have demanded tax financed solutions. Tiden Magazine analyzes if this is the return of the state as we knew it. The illustration is a paraphrase of an illustration made in the 40's, that supposed to illustrate how the state would protect it's citizens.









Feb 2020 - Teckningsmuseet
Opening for the exhibition Drawn to the Line at Teckningsmuseet togehter with artist Petra Börner.

"Petra Börner and Annelie Carlström both work with a focused expression that is characterized by a strong sense of the craft and the material. With great sensitivity, they explore subjects that revolve around man and nature. Their stylistically different universes have a similar intensity that complements and enriches each other. The exhibition features a wide range of commercial assignments, sketches and free artworks"

-Frida Talik, Artistic Leader at Teckningsmuseet.